Get The Dirt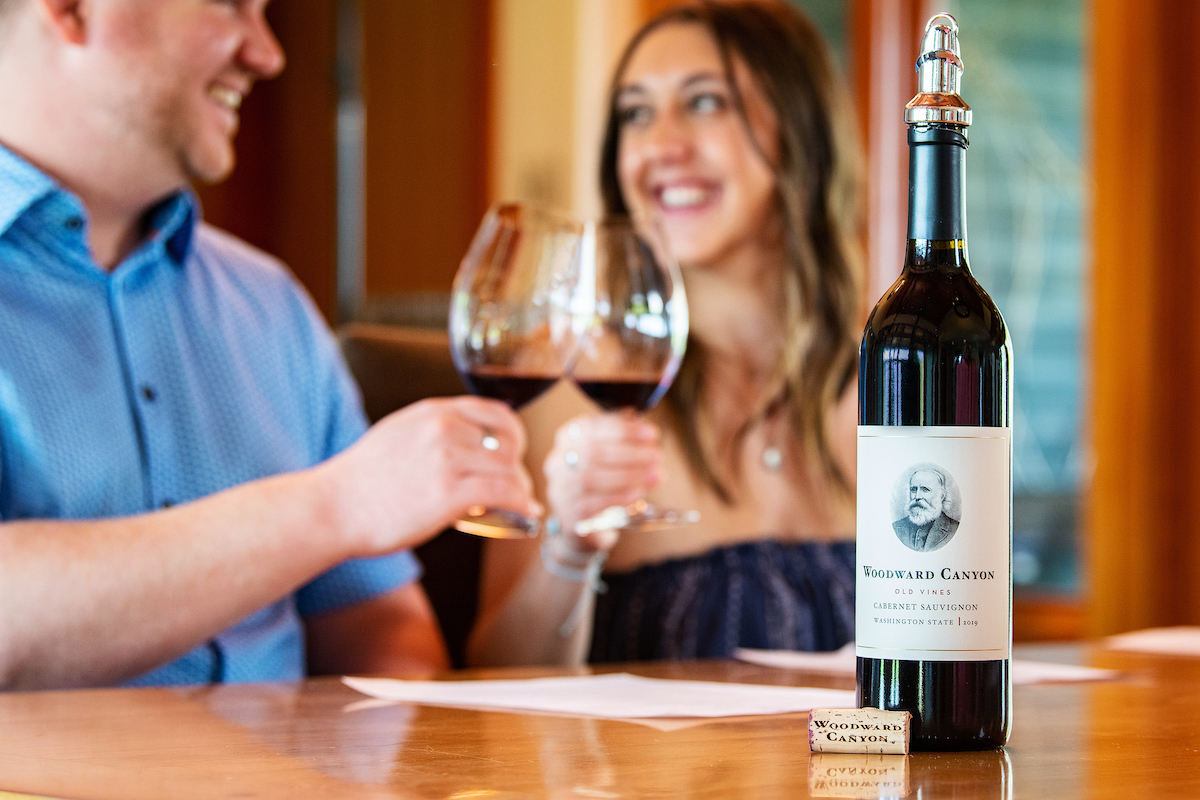 Recent Newsletters
2020 Old Vines & 2020 Artist Series Score 95pts. and more!
Our accomplished winemaking and viticulture teams here at Woodward Canyon Winery continue to elevate our wine offerings, and we're happy to share that their hard work is being recognized. Both the 2020 Old Vines Cabernet Sauvignon and the 2020 Artist Series Cabernet Sauvignon have received notable 95-point scores this May.
---

Owen Bargreen reviews Woodward Canyon's new and upcoming fall 2022 releases.
"These are wines that age so gracefully. Years ago I had the opportunity to try every edition of their 'Artist Series' Cabernet Sauvignon and have been so impressed with how that wine ages.
It is hard to believe that they are now on their 29th edition of this wine. The 2020 Woodward Canyon 'Artist Series' Cabernet Sauvignon (OB, 93) is dense, chewy, and delicious — it is extraordinary wine to consume right now."
---
Jeb Dunnuck Washington State Wine Report Scores
The results are in! We recently received our newest scores from Jeb Dunnuck's Washington State Wine Report and are happy to share them with you!
---
Happy Holidays & Season's Greetings 2021
As we wrap another wild year, we look back on all that there is to be thankful for.
We celebrated our 40th Anniversary this year, and while we weren't able to celebrate quite the way we wanted to, we were still able to connect with many of you in person and through the sharing of our stories and your memories. We have some fun events in the works for next year, so stay tuned as we continue the celebration in 2022.
---
Introducing the Next Generation | Sager Small: 40 Years of Memories- Part V
I guess my relationship with wine starts at birth, obviously….
Wine was always around me in the smells, conversations, meals, the perennial stains on my father's (Rick's) clothes, and even the occasional whiffs of propane from bustling forklifts. The earliest memories I can recall, are the ones you'd come to expect; trips to the estate vineyard or other contracted sites and tasting freshly pressed juice on the crush pad.
---
Introducing the Next Generation | Jordan Dunn-Small: 40 Years of Memories- Part IV
I have been around wine, the winery, and the vineyard for as long as I can remember. I was born in September, so as a crush baby, my first car trip other than home from the hospital was out to the winery. I have literally grown up in this industry. As I got older and got to go to work with my dad, I remember spending time playing hide-and-seek in barrel rooms, climbing pallets of wine, and running down the dusty hills in the vineyard with my brother.
---
Connections: 40 Years of Memories- Part III
It has been amazing how serendipitous connections have impacted our business, us personally, and the Walla Walla/Washington industry. With our backgrounds far from wine, Rick and I were unlikely to wind up in the business or to be able to meet the people and travel to the places that it made possible. This business has shaped our lives and those of our children in ways that we could not have imagined through one connection after another.
---
Exclusive New Release - 40th Anniversay Cabernet Sauvingon, New Scores, and New Events!
In honor of our 40th Anniversary, founder Rick Small was inspired to create this one-of-a-kind wine to showcase two different yet equally excellent vineyard sites. This very special wine is a 50/50 blend of Cabernet Sauvignon from Champoux Vineyard and Woodward Canyon Estate Vineyard. The Cabernet Sauvignon was sourced from the oldest Cabernet blocks at both vineyards, with an average vine age of 35+ years.
---
Humble Beginnings: 40 Years of Memories- Part II
Tripping down memory lane with owners, Rick & Darcey.
"In 1991 our 1987 Dedication Series Columbia Valley Cabernet Sauvignon ($23) landed on the Wine Spectator's Annual World's Top 100 list in the #10 spot, the first Washington wine to be in their Top Ten. We received letters of congratulations from politicians, other wineries, and businesses and turned away many buyers since the wine was sold out at the winery by then. It was a crazy time!" -Rick Small
---
America's # 1 Wine Show, V is for Vino visits Woodward Canyon
Recently Vince Anter- Host, Sommelier, and Founder of V is for Vino visited Walla Walla and Woodward Canyon Winery. The premier episode of Season 3 features the beautiful Walla Walla Valley as Vince meets with and explains why so many winemakers have come to make Walla Walla their home.
---
Taste Washington Wine Month- Red Blends & Family Recipes
March is Taste Washington Wine Month! This week, we are enjoying one of everyone's favorites, our Non-Vintage Red Wine, or as many people may know it, our "Pizza Wine." Who doesn't love a great everyday drinking red blend and some homemade pizza?
---
It's our Birthday! 40 Years of Memories - Part I
Woodward Canyon Winery was officially founded March 18, 1981.
The Beginning - Rick Small
I grew up, one of four sons, on a wheat and cattle ranch in Woodward Canyon near Lowden, Washington. As a boy, I attended the two-room Lowden School, which is now L'Ecole N0 41, and played baseball on the field between the two wineries.
---
Taste Washington Wine Month- Chardonnay & The Catch Of The Day
March is Taste Washington Wine Month! This week, as the temperatures start to rise and the surrounding fields begin to exhibit a green glow, we are enjoying Chardonnay with the catch of the day in preparation for spring.
---
Taste Washington Wine Month- Cabernet & Casserole
March is Taste Washington Wine Month, please join us in participating in this new format to celebrate all the deliciousness Washington has to offer. This month, we will be sharing a different wine pairing and Woodward Canyon family recipe to enjoy at home! This week we are kicking it off with the king of all red wines and a food pairing that has been passed down through generations!
---
As 2020 fades into the rearview, we want to take this chance to wish all of you a brighter 2021, and we hope to see many of your faces here at the winery again in the new year. Thank you for your support despite a challenging start to this new decade!

We are also excited to kick off our 40th Anniversary year! Stay tuned for flashbacks to the early days, special wine offerings, and exciting events later in the year. We look forward to raising a celebratory glass with you!
---
New Winery Updates for November 2020 & Barrel Full of Money Fundraiser
Governor Inslee recently announced additional restrictions to help slow the spread of COVID-19 in Washington State. Due to changes in restrictions for service, as of November 18, 2020, we will be postponing all onsite wine tasting.
Woodward Canyon is donating a portion of the proceeds from the sale of our NEW 2018 Estate Cabernet Sauvignon from now until December to 13th to the annual Barrel Full of Money fundraiser benefitting the Blue Mountain Action Council (BMAC) Food Bank.
---
Fall is Here, Bring on the Gravy & Merlot!
October is International Merlot Month! Enjoy our NEW 2018 Estate Merlot with this Pork Loin with Wine and Herb Gravy Recipe from Owner, Jordan Dunn-Small!
---
NEW Release- 2019 Washignton State Chardonnay
Enjoy the newest release of our 2019 WA State Chardonnay as the 2020 harvest rolls on.
---
Fish tacos are a quick, easy meal that pair perfectly with our Estate Sauvignon Blanc or NEW Estate Chardonnay!
---
A NEW Release in time for the start of Harvest 2020
Enjoy the NEW release of our 2019 Estate Chardonnay as the 2020 harvest gets underway at Woodward Canyon Winery.
---
The history and story behind the inspiration for our Estate Dolcetto and Estate Barbera from Owner, Darcey Fugman-Small.
---
New Look and New Summer Releases!
We are happy to start sharing our first bottlings featuring newly refreshed branding and packaging.
---
Vineyard Update And More New 2017 Releases
Our amazing Crest Club members received these beautiful wines this spring, we are excited to now share them with the rest of you.
---
One of the best things about the wine business is its connection to food and to the wonderful people that you meet that enjoy both.
---
A virtual toast to Spring Release! On May 1st, we hosted a special live virtual chat with Woodward Canyon Founder Rick Small and our neighbor and good friend, Marty Clubb, Owner and Managing Winemaker of L'Ecole Nᴼ 41.
---
More News, Reviews & Free Wine Advocate Offer!
New reviews from Rand Sealey's Review of Washington Wines are in for the new 2017 releases.
---
Several of our new 2017 releases have received high marks from Jeb Dunnuck and Dr. Owen Bargreen of Washington Wine Blog and we're excited to share them with you.
---
Enjoy the New 2018 Estate Dolcetto with this pairing!
Old world in style with something Mediterranean to shine with it! As we continue to share some of our winery team's favorite recipes that fill our bellies and souls, we turn this week to our Viticulture and Production Assistant/Co-Owner, Sager Small and his better half, Selena Kritsonis, Director of National Sales here at Woodward Canyon.
---
Did someone say Breakfast and Wine?!
People say breakfast is the most important meal of the day, and we think it is great any time of day! Enjoy this Recipe from our Wine Club & DTC Sales Manager, Michelle Aichele.
---
2017 Artist Series Cabernet Sauvignon Release!
Now is the time to seek out what is beautiful in the world – whether that is a quiet moment in nature or a stunning piece of artwork. We have been lucky to partner with 26 artists over multiple decades to feature their beautiful artwork on our Artist Series Cabernet Sauvignon labels.
---
Staying in? Make the most of it with Food & Wine!
As many of you know, the Woodward Canyon team loves good food. We love growing it, cooking it, and eating it. We love cooking for each other during crush and bottling, and for our company birthday lunch celebrations. We love cooking for our customers and trade partners. We love cooking at home for friends and family to enjoy. Food brings us together and gives us comfort. Enjoy this recipe from our Director of DTC Sales & Operations/Co-Owner, Jordan Dunn-Small.