Accolades & Acclaim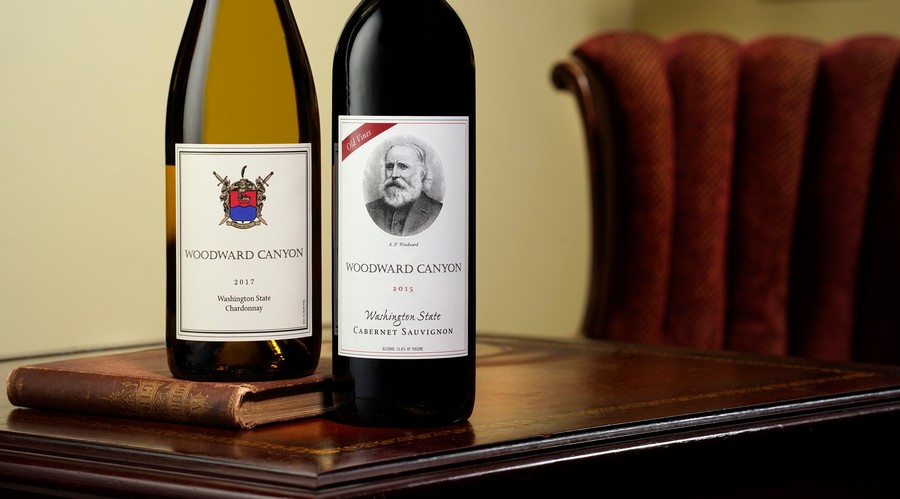 Recent Press
I have had the great pleasure and challenge of selecting 100 exceptional domestic wines to comprise my Top 100 for 2019. For our 2019 Top 100 we include some good value wine selections, as well as many collectible wines. - Dr. Owen Bargreen
---
Back in 2002, I was one of the few Whitman College students going to tasting rooms and thinking about aromas and flavors of wine, but I am very glad that I did. Woodward Canyon has been a pillar of quality since being founded in the 1981 by Darcy and Rick Small. They currently make some of the prized Cabernets and Chardonnays in Washington. - Dr. Owen Bargreen
---
Rick Small is the founder of Woodward Canyon Winery, one of the two pioneering wineries in Washington State's Walla Walla Valley. As such, he is considered one of the "founding fathers" of Walla Walla's dynamic wine industry.
---
As family-owned wineries transition into the next phase of leadership, we hear from a second generation of daughters who are taking command in various roles, bringing fresh ideas and new directions
---
A few weeks back I had the wonderful opportunity to go back into time and taste through the entire lineup of Woodward Canyon 'Artist Series' Cabernet Sauvignon wines, starting with the 1992 vintage. - Dr. Owen Bargreen
---
All the winners from the 14th Annual Seattle magazine Wine Awards.
---
Walla Walla, Washington, known for apples and wheat, has also become a compelling wine destination. Ray Isle experiences its top-notch Cabs and Syrahs, homegrown restaurants, and refreshingly down-to-earth spirit.
---
Washington State may be a fairly new wine-producing region, but several of its wineries have generations of history. Here are a few pioneers who put the state's wines on the map with their high-quality bottlings.
---
Cabernet Sauvignon has firmly planted itself as the premiere grape of Washington. Here are the wines to know.
Woodward Canyon on the "Top 100" Lists

WINE SPECTATOR
#10, Top 100 of 1990, 1987 "Dedication Series #7" Cabernet Sauvignon, Columbia Valley
Deliciously fruity, rich, supple and complex, with tiers of black currant, cherry, plum and anise flavors, finishing with a toasty, earthy aftertaste that adds dimension to the fruit. Best around 1994. 95 (this was the first Washington wine to land in the Spectator's Top 10)
# 56, Top 100 of 1992, 1989 "Dedications Series #9" Cabernet Sauvignon, Columbia Valley
A Washington wine that's bold, ripe and intense, with layers of plum, cedar, spice, anise and currant flavors that are rich, deep and concentrated. Has firm but polished tannins and a long, lingering aftertaste that keeps repeating the fruit themes. 92
#19, Top 100 of 1992, 1988 Charbonneau Red
Tight and firm, seductive and elegant, with sharply focused black cherry and toasty currant flavors that are enticing and beautifully integrated. Plenty of fine tannins bode well for cellaring. Should be best after 1994. 95
# 22, Top 100 of 1995, 1991 "Dedications Series #11" Cabernet Sauvignon, Columbia Valley
Ever since Small hit his stride with the 1986 vintage, he has been cranking out one outstanding Cabernet after another, all of them, like this one, packed with exotic, ripe, spicy flavors. 93
# 35, Top 100 of 1998, 1995 "Artist Series #4" Cabernet Sauvignon,
One of Washington's established wineries, Woodward Canyon is the source of delicious cabernet, but winemaker Rick Small shows a nice touch with chardonnay, too. Since the 1987 vintage, Small's cabs have rarely missed outstanding ratings. 92

WINE ENTHUSIAST
Best of the Year 1998, 1995 "Old Vines" Cabernet Sauvignon
Distinctively spicy aromas follow through on a concentrated palate, showing precision and intensity through the finish. Very deep flavors are matched by supple but abundant tannins. #99
Best of Year 2000, 1998 "Artist Series" Cabernet Sauvignon
An intensive, deeply extracted wine with a powerful bouquet of blackberry jam, red-fruit preserves, and plenty of new oak. This wine screams "Drink me!" from the first sniff. It's an 18-wheeler running down a steep grade. It explodes on the palate with a cloudburst of fruit, chocolate, smoke, oak, descending via soft, smooth tannins into a ripe, seductive, extended finish. 93
Best of Year 2000, 1999 Celilo Chardonnay
Stunningly rich on the nose, with roasted nuts, creamy butter and lime/kiwi/apple fruit. Truly amazing structure and balance, with the kind of extra dimensions typical of a top Burgundy. 93
Best of the Year 2001, 1998 "Old Vines" Cabernet Sauvignon
The old vines in question hail from what used to be the Mercer Ranch Vineyard (now Champoux), and date back to the 1970s, making them ancient for Washington state. Purple black, spicy and deep, this is a sensational wine that manages to be both elegant and powerful at the same time. Dense, ripe fruit, detailed spices, balanced oak and perfect tannins make this a textbook Washington Cabernet. 94

Best of the Year, 2001, 1999 "Artist Series #8" Cabernet Sauvignon
Earthy aromas are intertwined with dried meat. Rich chewy flavors are of blackberries and caramel. The balance of fruit, acid and tannins is exceptional, and the finish is extremely complex. 92 Editor's Choice
Best of The Year 2003, 2000 "Artist Series #9" Cabernet Sauvignon
Comes on like the big dog it is, with powerful scents of brash berries, cassis and smoky oak. Meaty, big and bouncy (apologies to the Who) this is a flavor-laden explosion of power and grace. Still young and relatively tight, this is a polished, textured wine with immense potential over the next decade. 92
#97 Top 100 of 2009, 2006 Columbia Valley Merlot
There is a little Cabernet Sauvignon (15%) and Syrah (4%) in the blend also. This is a silky, yet muscular – let's say it, masculine - style of Merlot. Meaning that the fruit is concentrated with deep blue and black berry and cassis flavors, augmented with lead pencil. Beautiful polish and concentration characterize this wine, yet it's quite approachable. 94
#12 Top 100 Cellar Selections of 2009, 2006 Estate Red
This is Woodward Canyon's reserve – the best lots of Cabernet Franc, Petit Verdot, Cabernet Sauvignon and Merlot creates this very limited wine. It is built to age, and reflects the tight and muscular style that Rick Small has developed over the years. There is a strong mineral-metal vein running through the black and blue fruits, and some very lively spice highlights. Tannins are ripe but firm, and this is a wine that will benefit from further cellaring. 95 Cellar Selection
#29 Top 100 of 2010, 2009 Washington Chardonnay
Luscious, rich, balanced and intensely fruity, this stunning effort may well be the best Chardonnay ever produced in Washington. Two-thirds old-vine Celilo vineyard grapes are blended with estate-grown fruit from even older vines that were planted in 1976. Candied citrus, especially Meyer lemon, lemon verbena and other fruits, herbs, stone fruits and subtle layers of caramel and toast burst from the glass. But the most amazing thing is that this wine stays fresh after being opened for literally days, much like a grand cru Burgundy. 96 Editor's Choice
#78 Top 100 Cellar Selections of 2012, 2009 "Artist Series" Cabernet Sauvignon
Here the high alcohol does not obscure the layered fruits and overall complexity of this exceptional Cabernet. Thick, ripe and richly endowed, it keeps its black fruit, ripe tannins and liquorous barrel notes all in proportion, and pulls in top flight fruit from Champoux, Sagemoor, the estate vineyard and other select sites. Earth, cedar and tobacco notes highlight the extended finish. 95
Cellar Selection Best of 2014, 2011 Columbia Valley Merlot
Plush and dusty, this splendid Merlot offers unusual depth and texture, even for Washington versions of the much-maligned grape. Along with black cherry fruit come highlights of herb and olive, spicy oak and rich earth. The density and detail carry through a long finish. 92
Best of 2014, 2012 Celilo Chardonnay
This single vineyard wine shows both the warmth of the vintage and the coolness of this site, showing depth and richness to the fruit flavors while retaining good acidity. It brings notes of apple, peach and lees with light barrel accents – 20% new French – and a creamy feel. Enjoy with shrimp stir fired in olive oil for a paring nirvana. 92
Best of 2014, 2013 Estate Sauvignon Blanc
From vines now a dozen years old, this unusual Walla Walla AVA Sauvignon Blanc is a brilliant straw color – aromatic with light scents of ripe grain and tangy fruits, and fills the mouth with delicious flavors of melon, white peach, lemon verbena and a dash of pepper. Complex and engaging, it finishes dry but leaves an impression of slights sweetness. Drink it slightly chilled. 91

#74 Top 100 Cellar Selections of 2015, 2012 "Old Vines" Cabernet Sauvignon
A blend of Champoux (62%), Sagemoor (26%) and Woodward Canyon (12%) estate vineyards, this wine is aromatically brooding at present, with notes of coffee, toffee and vanilla bean alongside high-toned cherries, dried herbs and flowers. The palate is supremely rich, dense and layered, with milk chocolate, coffee and cherry flavors. Tannins are expertly managed and the wine brings plenty of textural appeal, combining richness and elegance. The barrel notes are primary now, so give them time to integrate. Best from 2025 to 2035. 94 Cellar Selection.
#82 Topo 100 Cellar Selections of 2016, 2013 'Old Vines" Cabernet Sauvignon
Barrel notes of vanilla and spice take the lead in this aromatically brooding wine, followed by dried herbs and dark fruit. The flavors are pitch black, coating the palate from end to end with layers of fruit, tannins that go the distance and a graphite-filled finish that lingers. It will drink best from 2020–2027

WiINE & SPIRITS
100 Best Wines of 2010, 2006 Estate Red
This estate blend of cabernet franc, merlot and cabernet sauvignon starts out quietly, giving up little more than carob, olive, a bit of pencil lead. With air the wine begins to show black cherry and plum fruit, its savory flavors of mocha and salted caramel richly augmented by oak. The finish gathers force, and seems impossibly long. Give it time in the cellar before uncorking with a roast. 94, Year's Best Cabernet-based Blends

SEATTLE METROPOLITAN
#1 Top 100 NW Wines of 2008, 2005 Cabernet Sauvignon, "Old Vines", Columbia Valley
We often think of ourselves as California's wine-growing baby brother, but this cab – made with fruit from the 36-year-old Champoux Vineyard – proves we're no longer the new kid in town. Flavors of anise, black cherry and cassis. Drink on your birthday in 2020, and enjoy flavors and scents that have emerged in both you and the wine.

#69 100 Best Washington Wines, 2011, 2010 Washington Chardonnay
A vibrant 100 percent chardonnay from Walla Walla Valley stalwart Woodward Canyon that has alluring aromas of spice and melon, a rich palate with touches of tropical fruit, and a crisp acidic finish. 91
#2 Chardonnay Best Wines of 2013, 2011 Washington Chardonnay
Grapes are sourced from Celilo Vineyard in the Columbia Gorge and the winery's estate vineyard, and all are from the cool 2011 vintage. It's more Burgundian in style than Washington usually produces, showing elegant notes of pear, citrus, and light spices. Understated new oak lets the fruit shine.
#3 Top 10 Washington Wines 2014, 2012 Washington Chardonnay
This chardonnay is an exquisite blend of fruit from Woodward Canyon Estate (71%) and Celilo vineyards. It shows mesmerizing aromatics of corn silk, cream, and spice with a textured, creamy feel and an open finish. Drink while vacationing on the coast, feasting on crab cakes.
#4 Top 10 Washington Cabernets, Best 100 Wines 2014, 2011 "Old Vines" Cabernet Sauvignon
A blend of fruit from Champoux, Sagemoor and Woodward Canyon Estate vineyards aged in new French oak, it is a hedonist's delight, drinking like a candy bar with rich notes of butterscotch, milk chocolate, coffee beans, vanilla, and candied cherries. Drink this straightaway after dinner; no need for dessert
#7 Top White, Top 100 of 2015, 2012 Celilo Chardonnay
Positioned in the western part of this dynamic growing region, Celilo Vineyard is known for the nervy acidity of its chardonnays. The site is perfectly captured in this breathtaking bottle that shows richness and vibrancy with notes of apple, peach, and lees
#10, Top 100 Washington Wines of 2016, 2012 Estate Reserve
One of the state's oldest wineries also happens to create some of Washington's most ageworthy wines. The latest example is this red blend, near equal parts merlot, cabernet sauvignon and cabernet franc, alonge wit a health dollop of petit verdot. Expect it to be at its best for a full 20 years.
#7 White, Top 100 Washington Wines of 2016, 2014 Washington Chardonnay
Year after year, count on Woodward Canyon to produce chardonnay both nuanced and profound. The 2014 vintage wine is the latest example from this Old Faithful of Washington winemakers.

SEATTLE MAGAZINE
Best Cabernet over $20 in 2009, 2005 "Old Vines" Cabernet Sauvignon
The aromas of this wine are both classic Cab – ripe, lush blackberry, dried herbs – and unique – the aroma of recently rained-on wheatfields. Soft tannins and mouthwatering acid balance this luscious wine, which comes from one of the best vintages Washington has seen and will age well for several years. Good match for beef short ribs.
#39 100 Best Bottles of Washington Wine, 2009 "Artist Series" Cabernet Sauvignon
Whereas the majority of Washington wineries have set up shop in the last 10 years, Woodward Canyon is in its 18th vintage of its Artist Series cabernet, which boasts luscious cherry and coffee flavors and moderate tannins. This wine is high in alcohol but holds it well. 92
# 2 Cellar Worthy, Top 100 Wines of 2015, 2012 Cabernet Sauvignon, "Old Vines', Washington State
Since its founding in 1981, Woodward Canyon has been responsible for some of the state's best and most age-worthy wines. Barrel notes of coffee and vanilla take the lead, but with time dense cherry and herb take over. Give it a good 10 years—or several days decanting.
#2 Top Merlot, Top 100 Washington Wines of 2015, 2012 Columbia Valley Merlot
This 100 percent varietal wine comes from equal parts Weinbau and Woodward Canyon Estate vineyards. It shows a pleasing interplay of fruit and barrel, with aromas of chocolate, cherry, and spice followed by full-bodied fruit and tightly wound tannins.

#7 Top Whites, Top 100 Washington Wines of 2015, Celilo Vineyard Chardonnay
Positioned in the western part of this dynamic growing region, Celilo Vineyard is known for the nervy acidity of its chardonnays. The site is perfectly captured in this breathtaking bottle that shows richness and vibrancy with notes of apple, peach, and lees.
GREAT NW WINE
Best Chardonnay Great NW Wine Competition 2013, 2012 Washington Chardonnay
Winemaker Kevin Mott used grapes from the estate vineyard in the hills of the northern Walla Walla Valley, and he blended them with Chardonnay from Celilo Vineyard on the Washington side of the Columbia Gorge. A hint of mint, apple and pineapple lead off the aromas, followed quickly by apple, pineapple and lemon in the mouth. The fruit flavors linger on, slowly fading as a firm apple bite of acid clears the palate and leaves the tongue salivating for another delightful sip. Gold
#82, Top 100 Wines of 2015, 2011 Estate Reserve

#3, Top 100 Wines of 2015, 2012 "Old Vines" Cabernet Sauvignon
Best White, Best of Class Great NW Wine Competition 2018 - WWV, 2017 Washington Chardonnay