Vineyards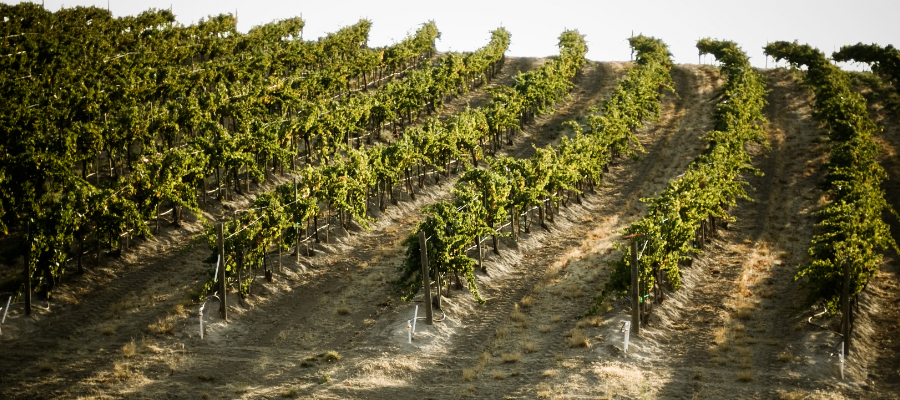 Woodward Canyon Estate Vineyard
Appellation: Walla Walla Valley
Soil Type: Ritzville silt loam over fractured basalt
Elevation: 900'
Aspect: South, East and West
Rainfall: 10-13"
Acreage: 42
The Woodward Canyon Estate Vineyard is located three miles north of the winery in Lowden, Washington.
The vineyard was first planted in 1977 on third generation family land previously utilized for cattle and wheat production. It is planted predominantly to cabernet sauvignon, merlot, chardonnay, sauvignon blanc and cabernet franc. There are various experimental northern Italian and Provence varieties planted as well. . The Walla Walla Valley Cabernet Sauvignon, Sauvignon Blanc and Estate Red are the three principle wines produced from the Estate Bordeaux plantings. Our Washington State Chardonnay is typically a blend of fruit from the Woodward Canyon Estate and Celilo Vineyards and occasionally an Estate Chardonnay is produced as well. Very small amounts of Barbera, Dolcetto and a Provence- style blend (Erratic) are also produced from the Estate.
All grapes are sustainably grown at Woodward Canyon Estate Vineyard. In the fall of 2008, the vineyard became certified, a two year certification process, by the International Organisation for Biological Control (IOBC) via Low Input Viticulture and Enology LIVE and Vinea, the Walla Walla Valley Winegrowers' Sustainable Trust. The IOBC was established in 1955 to promote environmentally safe methods of pest and disease control in plant protection. The vineyard is also designated as Salmon Safe. Minimal drip irrigation is utilized and yields are typically in the 2 ton per acre range.
Champoux Vineyard
Appellation: Horse Heaven Hills
Soil Type: Fine, loamy sand (Warden-Schano-Esquatzel), slightly alkaline
Elevation: 600-700'
Aspect: North/South
Rainfall: 6-9"
Acreage: 170
Champoux Vineyard (pronounced like shampoo) is located in the Horse Heaven Hills AVA of Washington State.
Woodward Canyon is a joint owner in the Champoux Vineyard with Quilceda Creek, Andrew Will, and Badger Mountain/Powers as partner wineries along with Vineyard Managers, Paul and Judy Champoux. The Champoux Vineyard consists of mixed varietals - cabernet sauvignon, lemburger, cabernet franc, syrah, merlot, riesling, muscat, and chardonnay. Grapes grown in the vineyard have been used to produce some of the most critically acclaimed Washington wines. In this semi-arid desert setting the vineyard receives 2800 Average Heat Units.
Located five miles above the Columbia River and 35 miles south of Sunnyside, Washington, the area was originally part of the expansive Mercer Ranch which was planted to crops including carrots, corn and potatoes. The first grapes were planted by the Mercers in 1972 and they produced wine there for several years. Paul Champoux joined as vineyard manager in 1989. In 1996, the Champouxs formed a partnership with the four wineries to purchase the vineyard from the Mercers.
While not a certified organic vineyard, Champoux vineyard is farmed with an emphasis on environmental awareness. No synthetic fertilizers have been used on the property in over 20 years with cover crops and compost used to help sustain the microbial activity in the soil. Maintaining healthy levels of magnesium and other plant nutrients early vine growing season is a priority in order to ensure proper build ups of sugars in the grapes by the time véraison occurs later in the season.
Primarily, Woodward Canyon uses Champoux fruit for the "Old Vine" Cabernet Sauvignon as well as the "Artist Series" Cabernet Sauvignon. The cabernet vines were planted in 1972, making them some of the oldest cabernet blocks in the state. The fruit produces extremely elegant and bright red cherry flavors.
Sagemoor Vineyards
Appellation: Columbia Valley
Soil Type: Loess, river & lake sediment
Elevation: 700-900'
Aspect: Southwest
Acreage: 466
Founded in 1968 through the vision of Alec Bayless, Sagemoor Vineyards was a pioneering effort that helped establish the Washington State wine industry. Its early vineyards are among the oldest large-scale plantings of vinifera grapes in the State. Rick began using Sagemoor fruit in his home winemaking days and we continue to use it today. A significant number of 1972 plantings are still producing highly acclaimed "old vines" Cabernet Sauvignons, one of which is Woodward Canyon's, sourced from specific rows in Blocks 3 and 9.
Typically, our "Old Vines" Cabernet Sauvignon is composed of fruit from Champoux and Sagemoor Vineyards. We also use Sagemoor fruit in our "Artist Series" Cabernet. Sagemoor is located north of Pasco with dramatic views of the Columbia River below.
The winery actively participates in viticultural decision-making within our blocks. Precision farming techniques such as vigor mapping, Regulated Deficit Irrigation, soil profiling, micro nutrient analysis and "green harvest" thinning are applied to manage yields, balance canopy with crop load, optimize sun exposure and ensure consistent high quality fruit.